I sent this e-mail to the CEO of NXP Semiconductors. (23 July 2014, 4:36am JST)
---
To: NXP Semiconductors N.V‎
Richard L. Clemmer, Executive Director, President and CEO
Dear Mr. Clemmer,
About a week ago, I found an unbelievable information about LPC1114FN28 on Digikey and Mouser. That was "LPC1114FN28 has been marked as obsolete and is being discontinued." I confirmed LPC1114FN28 is in your 2014 Mid‐Year Product Discontinuation list. (On the top of page 11) As well as I know, LPC1114FN28 is in the list of your longevity, 10-year promise list. By that list, longevity date of LPC1114FN28 is 2022-08-08. Here is the archive of your web page.
For this year, I spent a time to port mbed SDK for some of your products. As you may know, NXP is introducing mbed as one of your "Tools Ecosystem". As well as I know, 1,000+ people are using LPC1114FN28 on online compiler of mbed. We purchased LPC1114FN28 through NXP's official distributor, but I've never got any accurate information from those channels.
So, I have a few questions.
– Which information is correct? Will you discontinue that at the end of the year or not?
– Why NXP is showing inconsistent information? I thought discontinuance is very important decide for semiconductors.
If you will discontinue that,
– What is your "promise"? How can we believe you will keep your words from today?
– I know 1k something is not large number for semiconductors, but why are you ignoring us?
Hope to hear your sincere attitude.
Regards,
Yoshihiro TSUBOI
# This is an open letter, I already published this e-mail on my blog. And I will publish your reply on my blog. http://www.ytsuboi.org/wp/archives/2281
---
I got a reply at 24 July 2014 15:05pm, JST.
Thank you, NXP. I really felt your sincerity.
---
July 24, 2014
Dear Tsuboi-san
Thank you for bringing your concerns to our attention in your July 23 correspondence delivered in your letter to our CEO Mr Richard Clemmer and blog post entitled, "An open letter to NXP Semiconductors about LPC1114FN28." I sincerely apologize for the difficulty you've encountered getting accurate information about part availability. I can assure you we take your correspondence very seriously and will strive to address your concerns to your satisfaction.
I know product longevity is important to you, just as it is important to NXP. And I very much appreciate you re-emphasizing the importance of this microcontroller to the design activities of over 1000+ customers using the mbed platform. We are happy to let you know of our decision to reinstate the part immediately into active, orderable status with no planned end-of-life as was communicated on the 2014 Mid-Year Product Discontinuation list . We will also inform our Distributors of this decision, so availability status on Distributor websites should be updated once that information is received and processed.
Again, please accept our apologies; it is my hope that this message clears up any confusion. If you have any questions about this issue or need support for NXP microcontroller products and solutions, please don't hesitate to contact NXP's regional technical and commercial support manager (contact information was removed)
With Kind Regards,
Steve Owen
EVP Global Sales BU Security and Connectivity
NXP Semiconductors
Eindhoven
(contact information was removed)
---
The status on LPC1114FN28 was recovered. Left: a few days ago, Right: Now(26 July 2014)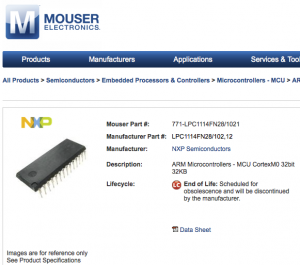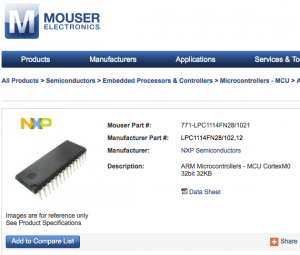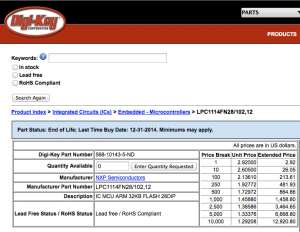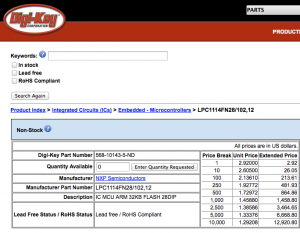 ---
You can purchase LPC1114FN28 and mbed LPC1114FN28 through Amazon.com!

日本の方は、Amazon.co.jpで買えます!